Center for Academic Success
Helping thousands of students in Los Angeles county with kids after school classes for kindergarten through 12th grade.  Helping kids reach their academic goals with academic enrichment programs to match their level.  In addition to math and English classes, we also offer test prep for standardized tests with 11 locations in Los Angeles county.
Established in 1980 with the understanding that each student varies with their educational needs, personality, and pacing.  We have developed course materials and instructional methods that comprehensively respond to the abilities of students at every level of achievement.  Feel free to ask us any questions and we will be very happy to assist you and your child on their journey.  We keep a positive attitude with a strong work ethic when we're all sitting down together in class.
Our academic enrichment program, Mac-System, emphasizes the individuality of each student in order to improve the academic performance and to enhance critical and interpretive thinking abilities.  Learning to learn is arguably the most important ability, and our program has shown us considerable merit with countless success stories and testimonials as well as some awards along the way.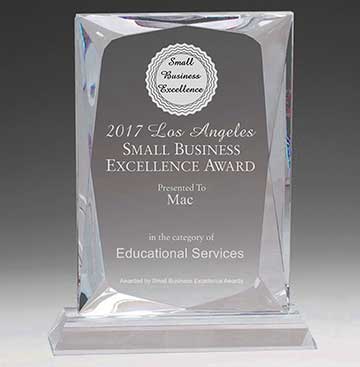 Most of our students find us through word of mouth, and word gets around when you have a successful after school program, but our new website with the instant callback feature is very exciting as well.  Just click that little "phone" widget robot that bounces up to the left hand corner of your screen and you will be connected with one of our instructors within 60 seconds, unless they are too busy teaching youngsters!  If so, our new robot (we call him "spot")  will text one of our teachers and we'll get back with you asap.   We welcome the new call robot, here at the school the teaching never stops and the learning never ends.
Our instructors are extensively trained specialists who dedicate themselves to helping students attain excellence through mastery of the fundamentals, as well as the more advanced subjects.  Our instructors motivate students to surpass the satisfactory levels of performance with supplemental educational classes that make a difference.  Our standardized test preparation tutoring has helped many students achieve much higher scores with SAT, AP tests and others, just ask.
With 11 locations in Los Angeles county: Culver City, Eagle Rock, Gardena, Monterey Park, Northridge, Palos Verdes, Pasadena, Sherman Oaks, South Pasadena, Temple City and West LA.